I doubled the recipe so we could eat one helping for dinner and freeze the other one. You will not want to cook the frozen dish. Simply put the ingredients together and cook when you are ready to eat it.
First I layered Chicken Breast Tenderloins in the bottom of a disposable pan. You can use chicken breasts if you prefer. I just love the tenderloins because they are the perfect portions for the kiddos.
Next, mix the topping of cream of chicken, poppy seeds, and sour cream (or plain Greek yogurt, if you want a healthier alternative). Spread the mixture on top of the chicken.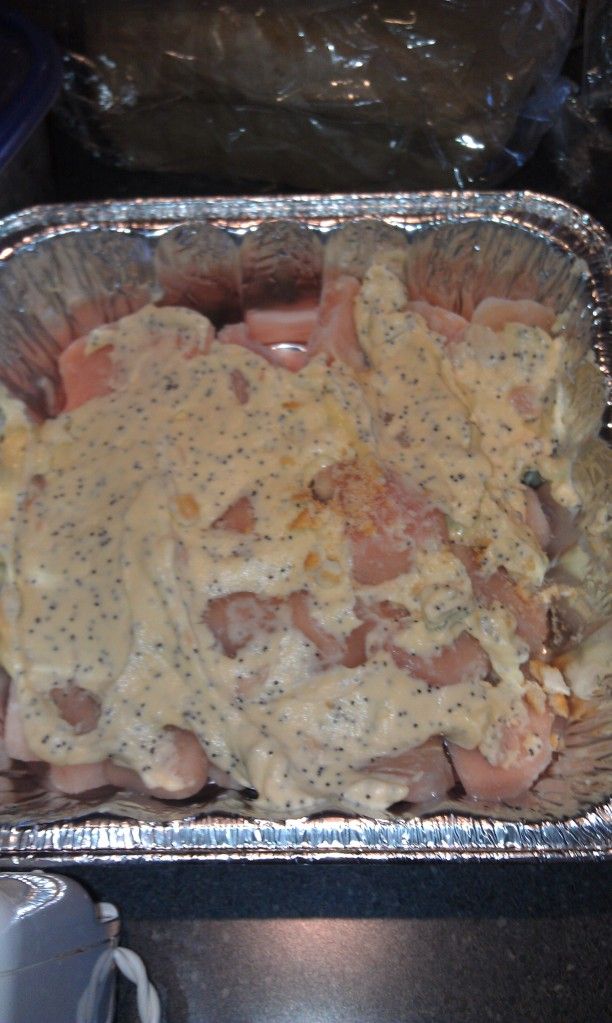 In a seperate bowl, melt butter and mix with Ritz crackers. Then sprinkle on top until covered.
Here is the recipe:
4-6 Whole Chicken Breast or 8-12 Tenderloins
2 Cans Cream of Chicken Soup
1 16 oz Container of Sour Cream or Plain Greek Yogurt
2 Teaspoons Poppy Seeds
36 Crushed Ritz Crackers
1 Stick Butter
After you have put all your ingredients together cover and place in the freezer. I always cover with a layer of plastic wrap and then tin foil and mark the cooking directions on top. Cause I'm lazy like that and don't want to look it up later. :) You will need to defrost this before cooking.
This will bake at 350 for 30-45 minutes depending on the thickness of the chicken.
Enjoy!
Poppy Seed Chicken is probably one of my most fond memories of family dinner growing up. I remember loving this meal from at least the age of 6 or 7. My mom used to make it all the time and still to this day I haven't changed a thing about the recipe. It is another staple in my 30 Days of Baby Meal Planning as it freezes so well and is also a favorite for every member of my household.