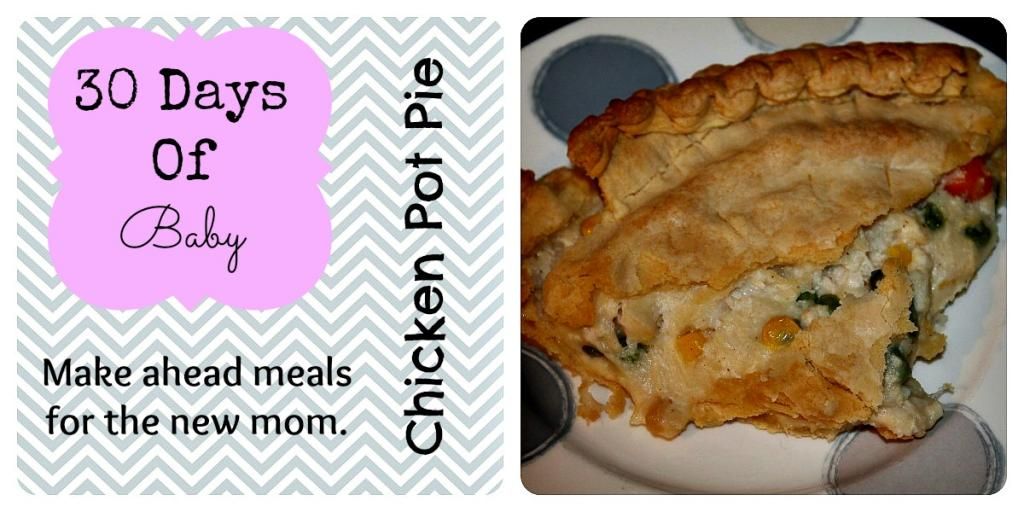 We have been so blessed with friends and family that have brought us meals that I am just now having to dip into my 30 days of premade meals stash.
Last night we had my Almost From Scratch Chicken Pot Pie. This is such an easy recipe and freezes so well! Plus it is a hit with my whole family and I feel good about it not having all the cream soups and extra sodium!
For an ongoing list of Make Ahead Meals visit my
30 Days of Baby
link.
Mix your shredded chicken and veggies in a large mixing bowl.
Then brown your flour and butter mixture in a large saucepan. Mix with milk and seasonings until thick.
Fill your prepared crusts.
Top with another prepared crust and cut slits for ventilation.
Cook and enjoy!
Here is the recipe:
4 Chicken Breast, cooked and shredded. (Reserve Broth)

1 Bag Frozen Vegetables of your choice.

1/3 Cup of Butter

1/3 Cup of Flour

1/2 Teaspoon of Salt

1/2 Teaspoon of Black Pepper

1/4 Teaspoon of Celery Seed

1 3/4 Cup of Reserved Chicken Broth

2/3 Cup of Milk

2 Prepared Crusts
Boil chicken breast until done. Shred with fork and reserve broth.

In the saucepan over medium heat, melt butter. Stir in flour, salt, pepper, and celery seed. Slowly stir in chicken broth and milk. Simmer over medium-low heat until thick. Remove from heat and set aside.

In a large mixing bowl, mix chicken, veggies, and hot liquid mixture.

Place the chicken mixture in bottom pie crust. Cover with top crust and seal edges. Make several small slits in the top to allow steam to escape.

Bake in the preheated oven at 425 for 30 to 35 minutes, or until pastry is golden brown and filling is bubbly. Cool for 10 minutes before serving.
To Freeze: Cover with plastic wrap and tin foil BEFORE COOKING. When ready to cook, defrost and remove plastic wrap and cook according to directions.