I have been drooling over these
shelves
on Pinterest for months now. When I went back to the link to view the instructions they were gone. Grrrrr. I HATE that! So I decided to make them up as I went. How hard could they be?! And I was right. They were so easy and quick to make not to mention the fact that they only cost about $10 for all the supplies!
I have them hanging in my half bathroom over the toilet and they add so much character to the room!
What you will need:
Common Board
Link Chain
Eye Screws
S Hooks
Paint
L Brackets
First thing you will need to do is measure your space. My half bath was exactly 3 feet wide. So I bought a 6 foot common board and simply cut it in half.
Then I painted the front, back and sides and let them dry completely. These could be any color but I matched them to my trim paint which is a slight off white.
I wanted to match the "industrial" look of the chains so I used just plain metal L-Brackets and left the wood un-sanded and some of the imperfections show through the paint. You could use wood brackets if you wanted a more polished look.
Then I added the L Brackets to the bottom of the board so that they were flush with the back of the board.

Next up was the eye hooks. They were simply screwed in to the top front part of the shelf. I am really bad about measuring so all this was just eye-balled. :-)
After that, I attached the shelves to the wall with the L-Brackets. Then, I attached the link chain to the bottom eye screw with an s-hook and measured where to screw the wall eye screw in. Then matched the height on the other side.
And there you have it! I had found these cute canvases at Target on clearance for $5 so I picked up 3 of them. Two are hanging on the wall. But the colors were so fun to decorate with!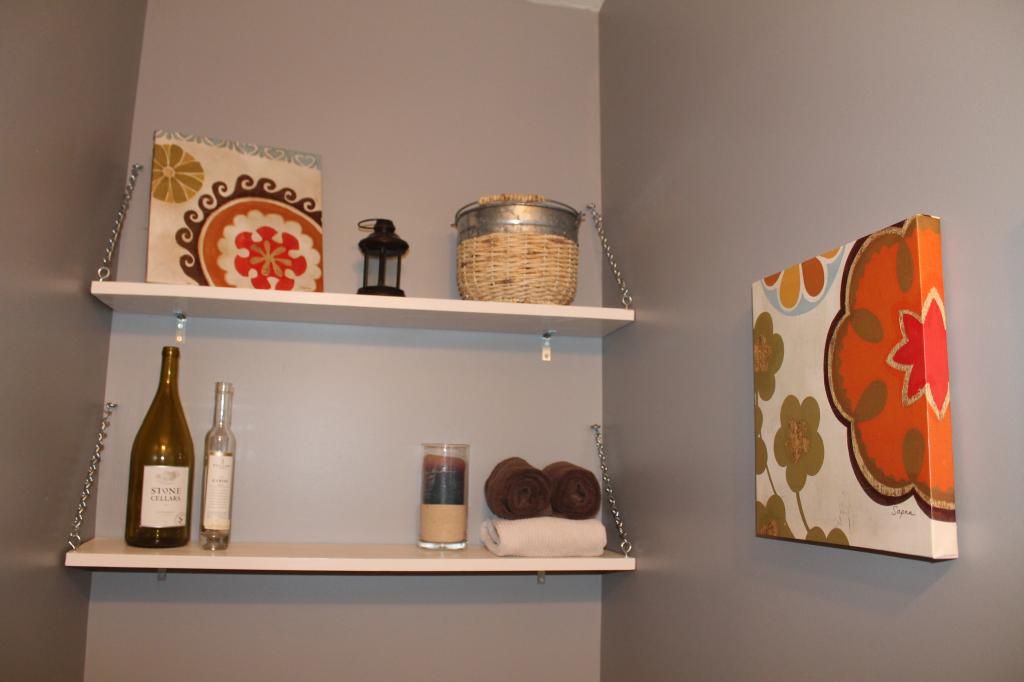 Love, love, love how cute they are!