I can't begin to tell you how much I LOVE my new dining room! The project on the other hand... not so fun. :-)
What should have a 1, maybe 2 weekends project took me 5. Yes, 5! Of course, you have to love my perfect timing of starting a project like this in the middle of school year with a brand new baby. But what can I say? I get my mind on something and just HAVE to do it!
So here is my before picture:
Kinda blah. The color we originally picked out for this room and our family room turned out a little green for my taste. It was Sherwin Williams Ethreal Mood which is really pretty but just pulls a little more green than I would like. I stuck it out for two years but now its gotta go!
The first challenge was finding the right grey. Wow. At one point my dining room looked like this:
We went through 5 greys before I finally realized my bedroom was painted the perfect color. So Valspar's Stratus it was. Not too blue that it looked like a baby's room but not too grey that it was dark and dreary. Then we added the chair rail:
The crown molding in this room has two layers so I tried to match the bottom layer as close as possible. Mine measures 1.5 inches wide and I used the same trim for the chair railing and the frames.
This was the easy part. First, I painted my trim with two coats. That way, I didn't have to tape off when I got ready to paint the bottom part of the wall. Then, using a table saw, I measured twice and cut once at 45 degree angles to make the corners match up. I used straight cuts at the ends of the wall and at the window. Then I attached the trim with a nail gun and finishing nails.
Then I started cutting my squares. I honestly can't tell you if there is an appropriate size for the squares. I basically allowed for 5" from the bottom of the chair rail to the top of the square and 5" from the top of the baseboard to the bottom of the square. I didn't want my squares to be totally, well, square so I came up with squares measureing 20" wide x 18" long. Then I allowed for 5" between each square.
The cutting was a VERY tedious process. If you have experience with a table saw this will probably come easier for you. I had never used one and my finger actually caught the bad side of a spinning blade at one point. Thankfully, it was just a graze and not a full blow! I cut each piece to size with straight cut first. This could be eliminated if you feel more comfortable measuring at angles. So, each piece of trim received 4 cuts... and I cut 60 pieces of wood. Yeah... So you could eliminate two of those cuts by getting comfortable enough to measure at an angle.
I started in the middle of the wall and worked my way out. That way all my frames were even. When I got to the end of the wall and did not have enough space to do a full square, I simply kept with the 5" frame around the square and adjusted accordingly.
Then I painted the whole bottom part of the wall the color of my trim. Mine is an off white but it has been color matched to what was originally here so I am not sure of the exact color.
Then I started putting up my frames. I used a level to place all the top pieces first. Then I used a 90 degree angle to make sure my side pieces were straight. The bottom piece then fit perfectly in its place. Don't worry if the edges have small gaps. Caulking will cover a multitude of sins!
And why I quit taking pictures here I am not sure. But I did. So sorry!
After that comes the job of caulking. Make sure you buy PAINTABLE caulk. I used DAP Acrylic Latex with Silicone. Each nail hole will need to be filled. Then you will need to caulk around the top of the chair rail and each side (inside and out) of the frame pieces. This is critical in making the frames look like actual wainscoting.
Last but not least, paint the entire wall and frames with a second coat to give everything a good cover.
And there you have it!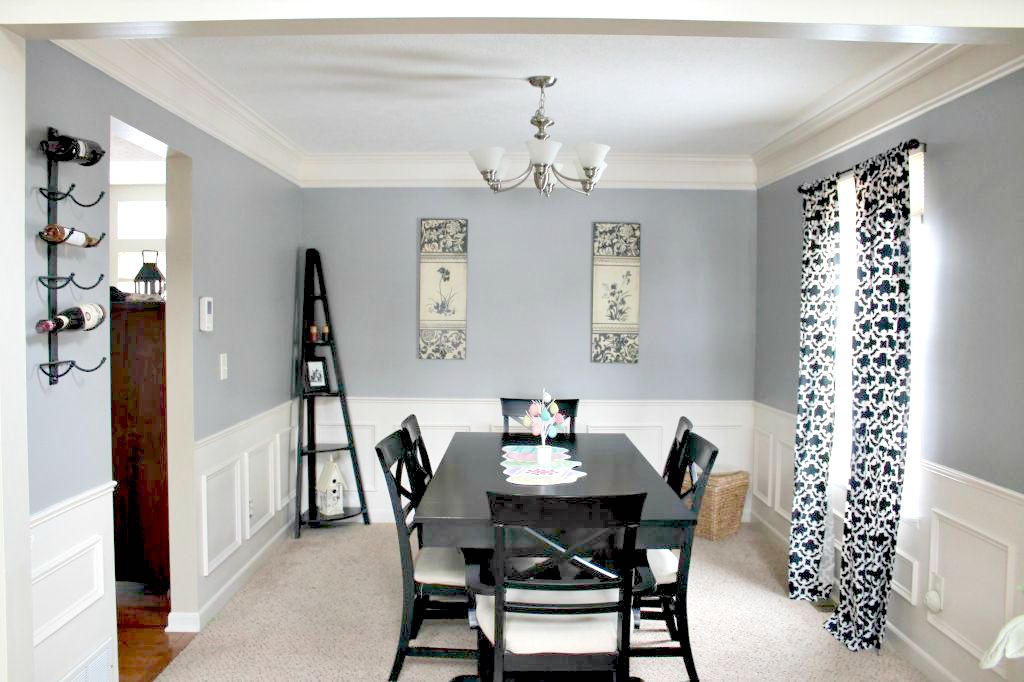 Love, love, love the finished product. It looks like a totally different room! The entire project cost about $150. That included the 5 gallons, quarts or samples sizes of paint as well though. Haha.
If there is anything I didn't cover feel free to email me. Hopefully I can answer your questions!